12/07/2022
Why Digital Content Matters for Distributors
An SHDA Associate Advisor Insight:
Dealers, installers, contractors, end users, and other specifiers are busy people, often making buying decisions for multiple products every day. That means they all also need information, certainly about product specifics, like costs and dimensions, but also about the details that can help them save labor time or reduce callbacks. The kind of information that actually imparts product knowledge can be much more difficult to locate, which opens up an opportunity for distributors to grow their businesses by becoming a trusted online resource and influencing a customer's buying decisions.
Digital content is how internet marketing professionals describe both the transactional product basics and the more marketing-based, knowledge-building articles, product releases, and how-to's distributors' customers are seeking throughout their buying process. Marketing content can be particularly important for distributors seeking to build stronger customer ties. Marketing content is critical, as it is used by the customer to evaluate products and make purchasing decisions on the best product to suit a specific application or to reduce labor costs on projects. Since distributors are the first point of contact for their customers, it's important they don't simply push their customers to manufacturer websites to get product information but provide their own marketing content on their websites and in eNewsletters.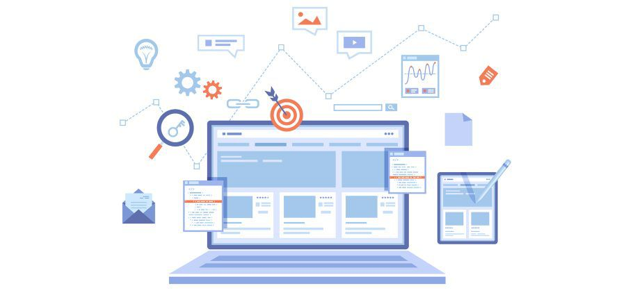 Consulting firm Gartner found that 72% of buyers today would rather not engage with a sales representative. This figure is a jump up from 43% in November 2021, and 33% before the COVID-19 pandemic. Buyers will still engage with a distributor's salesperson after doing their research, though, to confirm their purchase decision and close the sale. As such, distributors who want to be included in that research and who want to be considered as a viable option during the early and middle stages of a buyer's sales journey are learning that to be a viable option, it's imperative they provide the digital content their buyers are looking for.
It's equally important that the content distributors offer is actually what their customers are seeking. They are looking for content that solves their problems — it's as simple as that. Distributors tie all their content back to one product or another when what they should do is tie their content back to what their buyer is looking for — information that solves a problem or offers an answer to a question. By taking such a higher-level approach, distributors can catch those customers who don't quite know what they're looking for and help them through the sales process to an eventual purchase. When used correctly, digital content will segment buyers, qualify them, and drive them through the sales funnel at a much quicker pace than a salesperson can.
So, what forms should this content take? A varied offering that includes feature stories, new product announcements, videos, and online catalogs, along with banner and tower ads, where appropriate.
Robert Stetson