2016 Summit Quick Links

46th Annual Industry Advancement Summit
May 2 – May 5, 2016
Embassy Suites Dallas-Frisco
Frisco, Texas
---
A Fresh Move To Frisco
SHDA's 46th Annual Industry Advancement Summit moves to a new and exciting location for the 2016 Summit – Frisco, Texas! Frisco, home of the Dallas Cowboys, offers an abundance of fun for kids of all ages in a safe, affordable and unique setting. Whether you take advantage of the incredible shopping and dining, are a huge sports fan, or if arts and culture are your passion, Frisco has plenty to offer. A quick drive around Frisco opens your eyes to the bronze cattle drives depicting the Shawnee Trail, artwork from around the world in Hall Office Park and a one-of-akind Texas Sculpture Garden. This new location is centrally located and features all the amenities of an Embassy Suites location.

For more than 45 years, the annual SHDA Summit has served the security hardware industry by featuring invaluable One-on-One business appointments where leading Distributors can meet with the more than 60 SHDA member Manufacturer partners in one convenient location. This saves your company hundreds of hours and thousands of dollars annually.

This year the Summit now offers three full-day One-on-One appointments. The One-on-One sign up session will be held Monday, May 2 at 4:30 pm and appointments will end on Thursday, May 5 at 5:50 pm. Twentyfive (25) minute appointments will again be offered for the entire Summit to allow partners the time to get the full benefit of tailored attention, allowing distributors to make up to 47 appointments – the most offered at an SHDA Summit! SHDA encourages Distributor companies to bring more than one principal to enhance their capacity and expand their exposure to all manufacturer participants. A full "dance card" of appointments will allow all attendees to leave Frisco with a complement of business contacts completed and work goals achieved.

The Security Hardware Distributors Association's mission is to continually improve, through education and services, the proficiency of security distributors in order that they are the most effective and efficient conduit to the marketplace. The 2016 Summit schedule, as well as the additional networking and educational opportunities offered in Frisco, will further enhance this commitment to our members.
SHDA's Annual Industry Advancement Summit will provide you with tangible, take-home knowledge that will help you run a better business, provided through SHDA's 2016 Ben Silver Education Program. Back by popular demand, Steve McClatchy will wow you with time-saving techniques to manage yourself and the choices you make, not just the clock. This fast paced, interactive and engaging seminar will teach you the skills at the heart of great time management and how to gain master control over your to-do list, calendar, contacts and meeting notes. If you want to double your productivity, balance your life, and once and for all get organized, don't miss this year's Ben Silver Seminar!

Register now to join your industry colleagues in Frisco on May 2 through 5 — you won't want to miss this one!
---
Maximize Your Results!
WHAT ARE THE ONE-ON-ONES?
They are a series of appointments that allow Distributors a unique opportunity to meet directly with the key representatives of both present and future suppliers. They afford the opportunity for both Distributors and Suppliers to discuss market trends, review new products and plan future strategies. On Monday afternoon at 4:30 pm, Distributors will set up sequential 25-minute appointments for Tuesday, Wednesday and Thursday. During the morning and afternoon of these three days, they will circulate along the Manufacturer Suites at the Embassy Suites Frisco visiting the Associate members of SHDA. Here are a few tips to help you prepare for and conduct these One-on-One sessions:

DISTRIBUTORS SHOULD:
Prepare market data for each vendor
Check with field personnel for details on products and servicing
Gather necessary input to maximize your vendor relationship
MANUFACTURERS MAY WISH TO BRING:
New product information
New programs
Advertising plans
Individual distributor sales figures
Vendor sales trends
IMPORTANT REMINDER
The purpose of the One-on-One Sessions is to provide Distributors and Associates a cost effective opportunity to meet with their market partners under one roof. SHDA strives to provide this opportunity to all delegates in a time-efficient fashion at the lowest cost possible. With this in mind, Associates are reminded that no alcoholic beverages or food should be permitted during the appointments.
---
Schedule of Events


MONDAY, MAY 2

7:00 am Transport to Golf Tournament

8:00 am Shotgun Tournament at The Tribute at Colony*

12:00 pm – 6:00 pm Registration

3:45 pm – 4:10 pm First Time Attendee Welcome

4:30 pm – 5:30 pm One-on-One Scheduling Session

5:30 pm – 7:00 pm SHDA Networking Reception

9:00 pm – 11:00 pm SHDA Hospitality Suite

TUESDAY, MAY 3

7:30 am – 10:30 am Ben Silver Seminar (Breakfast Included)*

10:50 am – 11:45 am One-on-One Sessions

12:00 pm – 1:15 pm Members' Luncheon

1:20 pm – 5:45 pm One-on-One Sessions

6:00 pm – 7:00 pm Embassy Suites Reception

9:00 pm – 11:00 pm SHDA Hospitality Suite

WEDNESDAY, MAY 4

7:00 am – 7:45 am Distributor Breakfast

7:00 am – 7:45 am Associate Breakfast

8:00 am – 11:55 am One-on-One Sessions

12:00 pm – 1:00 pm Members' Luncheon

1:10 pm – 6:05 pm One-on-One Sessions

6:00 pm – 7:00 pm SHDA Networking Reception

9:00 pm – 11:00 pm SHDA Hospitality Suite

THURSDAY, MAY 5

8:00 am – 11:50 am One-on-One Sessions

12:00 pm – 1:00 pm Members' Luncheon

1:10 pm – 5:50 pm One-on-One Sessions

6:00 pm – 7:00 pm Embassy Suites Reception

FRIDAY, MAY 6

7:30 am – 8:00 am Board & Committee Breakfast

8:00 am – 11:15 am Committee Meetings

11:30 am – 1:30 pm Board of Directors Meeting
---
Never Attended A Summit Before?
HERE'S WHAT YOU NEED TO KNOW:
1. Schedule your arrival in plenty of time to participate in the One-on-One Scheduling Session on Monday, May 2 at 4:30 pm. Your entire week depends on this scheduling session as appointments are not arranged at any other time.
2. Plan to attend the Ben Silver Seminar on Tuesday morning. This program, featuring Steve McClatchy, will revolutionize the way you manage your time!
3. Appointments are scheduled until 5:50 pm on Thursday, so in order to keep your room for appointments, you will need to stay Thursday evening and check out on Friday morning.
---
Ben Silver Seminar
TUESDAY, MAY 3 | 7:30 AM - 10:30 AM | CEU UNITS: 0.3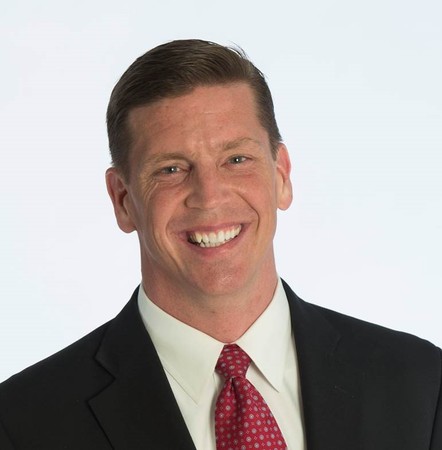 Work Smarter, Reduce Your Stress & Get More Done In Less Time:
A Time Management & Personal Leadership
Workshop Featuring Steve McClatchy

Steve McClatchy is an entertaining and motivating speaker, trainer, consultant, writer and entrepreneur who has spoken before thousands of audiences. Steve founded Alleer Training and Consulting out of his passion for continual improvement and his belief that when we stop growing, learning, gaining experience, achieving goals and improving we stop living.

In this age of social networking, text messages, instant messaging, email, voice mail, cell phone calls, face-to-face meetings, virtual meetings, drop-ins and a to-do list that never seems to end, you need a new approach to managing it all. Used by Disney, Hewlett Packard, Wells Fargo, IKEA, Nestle, Merck, BASF, Comcast and the San Francisco 49ers, this seminar delivers fresh, practical everyday strategies that will help you to accomplish more in less time and with less stress.
Time management is about managing the choices you make,
not about managing the clock. If you want to double your productivity, balance your life, and once and for all get organized, don't miss this year's Ben Silver Seminar! You will
Learn how to:
Make better decisions to get better results
Get more done in less time
Never forget anything again
End email addiction and stay focused
Keep a two minute interruption to two minutes
Say "NO" to poor uses of your time without damaging relationships
Use procrastination to your advantage
Balance your personal and professional life
Get organized so you spend less time looking for what you need
Plan to save you time and reduce your stress
The seminar is available to you for only $99! Be sure to indicate your wish to attend on your registration form. Breakfast included.

*CEU Units are assigned by Purdue University. The Professional Certificate of Innovative Distribution can be earned through Purdue University upon the completion of 90 hours of instruction that meets our requirement of 9 Continuing Education Units [CEUs] or CEU equivalents. Those 90 hours can be completed by: A combination of one [1] or [2] or [3] University of Innovative Distribution [UID] programs (each UID program counts for 3 CEUs), in combination with other CEUs obtained in distribution education and/or training as needed. Each Continuing Education Unit [CEU] or CEU equivalent equals 10 hours of instruction [education and/or training].
---
Meeting Registration
Early Registration Discount
$395 Cash/$410 Credit Card
Deadline: March 7, 2016
Register by March 7, 2016 to take advantage of the discounted delegate registration fee of $395, and to guarantee your company's listing in the Official Conference Program, which will be available on the web and updated every Wednesday evening beginning on March 21, 2016.
Regular and Mail-In Registration Deadline
$465 Cash/$480 Credit Card
Deadline: March 21, 2016
Register by March 21, 2016 to secure the regular delegate registration fee of $465 (check) or $480 (credit card) and to guarantee your company's listing in the Official Conference Program which will be distributed to all attendees at the Conference in Frisco.
Late Registration Deadline
$495 Cash/$510 Credit Card
After March 1
After March 21, 2016, fax your registration form to SHDA at 410-263-1659 and pay the Late Registration Fee of $495 (check) or $510 (credit card). Mail all Meeting Registrations and payment to: SHDA, 105 Eastern Avenue, Suite 104, Annapolis, MD 21403-3300. Make all checks payable to SHDA.
Spouse Registration Fee - $275
SHDA's Spouse Registration Fee is designed to be an economical way for your spouse or companion who is over the age of 18 to attend all of the convention activities. Registered spouses/companions are welcome and encouraged to participate in SHDA activities.
Registration and Cancellation Policies
Wearing of badges is required for admittance to convention activities. Nonregistered spouses will not receive a badge. In order to obtain a refund for convention registration fees, written notice of cancellation must be received at the SHDA office, by the dates noted below. If you must cancel your meeting registration, it is also your responsibility to cancel hotel room reservations.
By April 1, 2016 – for Full Refund
By April 15, 2016 – for 50% Refund
After April 15, 2016 – No Refund, with the exception of a medical emergency.
Registration Info:
Register Early to Receive Early Bird Registration Discount and First Choice of Manufacturer Suite Location!
Early Bird Registration Deadline............................March 7, 2016
Hotel Reservation Deadline....................................April 11, 2016
Early Delegate Registration Fee............................. $395
Spouse Registration.................................................$275
Included in registration fee:
All conference materials (program, badge, etc.)*
Networking opportunities with your marketing partners in the One-on-One Conference Program
Business session with speaker handouts, etc.*
One breakfast*
Three luncheons*
Four cocktail receptions (Two hosted by SHDA, two hosted by Embassy Suites)*
*Included in spouse registration fee – badge admits spouses to SHDA functions
Be sure to register by April 1, 2016 for inclusion in the Official 46th Annual Industry Advancement Summit Program. Registrations received after this deadline will appear on the supplemental registration list available onsite at the Annual Summit. Register online at www.shda.org. When you register online, you will pay the higher credit card fee.
---
Hotel Information: Embassy Suites Dallas-Frisco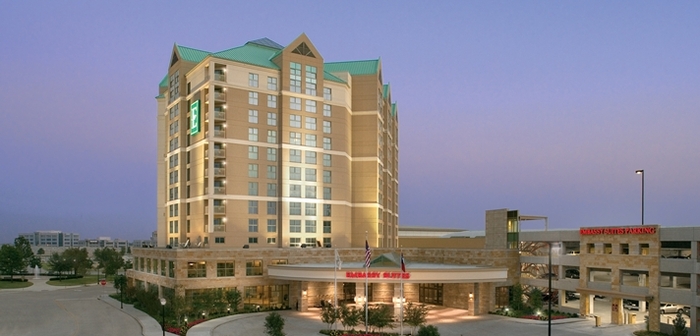 7600 John Q. Hammons Drive | Frisco, TX75034
Reservations: 1-972-712-7200 | Hotel: 972-712-7200
Resort Fax: 972-963-9164
Check-in: 3:00 PM Check-out: 12:00 PM
Embassy Suites Dallas-Frisco offers spacious two-room suites featuring a large bedroom and private living room including a well-lit dining/work table, telephone, two flat screen TVs with HDMI connections, microwave, refrigerator, wet bar and coffeemaker.
Treat yourself to a relaxing experience at the hotel Spa which boasts seven treatment rooms or a private couple's room and an in-spa dining menu. Dining options include Cyprus Grille, open for lunch and dinner seven days a week; Caffeina's Internet Café featuring Starbucks coffee and espresso, pastries, gourmet snacks and the convenience of high speed internet access. Complimentary cooked-to-order breakfast is available every morning 6:00 am - 9:00 am and the complimentary evening manager's reception occurs every evening 5:30 pm - 7:30 pm.
How to Reserve Rooms:
Non-Manufacturer Suite Room (for distributors and additional manufacturer delegates): If you are reserving a sleeping room only (not a company One-on-One Suite), please call 1-972-712- 7200 to make your sleeping room reservation directly with Embassy Suites Dallas-Frisco or reserve your room online. Make certain you mention that you will be attending the SHDA conference to receive the special SHDA room rate: $169, plus state and local taxes.
SHDA sleeping rooms will be available until April 11, 2016. After this date, rooms may be available on a space available/ rate available basis. It is vitally important that you reserve your accommodations at the Embassy Suites Dallas-Frisco. SHDA is contractually obligated to fill our hotel room black and may be exposed to significant financial liability should our members fail to support this room block.
Manufacturer Suite Room:
If you are an Associate (manufacturer) member and you are reserving your company's One-on-One Suite, please fill out the Manufacturer Suite Registration. Do not contact the hotel for this suite – it will be assigned by SHDA.
Transportation
Dallas/Fort Worth International Airport (DFW) is the third busiest airport in the world and the primary international airport serving the Dallas-Fort Worth area. It is also the largest hub for American Airlines which is headquartered near the airport. Transportation options are listed below. For more ground transportation options from DFW, please visit www.dfwairport.com/transport.
Ground Transportation
Rental Car: As a loyal SHDA member you are entitled to discounted rental car rates through Hertz. It's easy; simply use CDP# 1243495 while making reservations online at www.hertz.com, or by calling 800-654-3131.
Taxis: Taxi service is available on the upper level of Terminals A, B, C and E, and on the lower level of Terminal D. The first mile is $2.25. Each additional 1/9 mile is $.20. The minimum fare is $22. Airport exit fee is $5 and airport dropoff fee is $4. You can plan on approximately 23 miles to reach Embassy Suites Dallas-Frisco and an average cab fare of $60.
Scheduled Vans: The SuperShuttle operates 24 hours on a scheduled. Rates are $31 per passenger one-way. Call 972-456-3128 for more information.
Other Ride Share Services are:
City Shuttle, LLC - 214-760-1998
Go Yellow Checker Shuttle - 214-841-1900
Weather
Frisco generally experiences temperatures in the upper 70s and lows in the mid-60s during mid-spring. A light jacket or sweater may be handy for evenings.

Wardrobe
The attire for the 46th Annual Industry Advancement Summit is business casual. For men, golf shirt or dress shirts and leisure slacks are appropriate. For women, skirt or pant sets and business casual dresses are appropriate. Meeting rooms can be chilly, so sweaters are also helpful. SHDA receptions, hospitality suites and cocktail parties are casual affairs. Networking receptions will feature light hors d'oeuvres and an open bar. Hospitality Suites will feature a beer and wine open bar.
---
SHDA Golf Outing
Monday, March 2 | Shotgun Start At 8:00 Am | Bus Departs Hotel At 7:00 Am | $130
Located in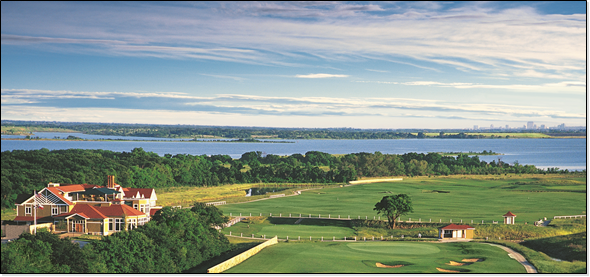 , just off the eastern shores of Lake Lewisville, The Tribute at The Colony offers a unique Scottish links-style golf experience that pays homage to the legendary courses, complete with
wind-swept dunes and sea-washed grasses.

The Tribute's brilliantly crafted par-72, 7,000-yard championship layout was designed by Tripp Davis & Associates to emulate holes from some of the greatest golf courses in Scotland, the birthplace of golf. Complete with wind-swept dunes, sea-washed grasses and other authentic Scottish links-style design elements, the course's captivating variety of holes include the famous par-4 17th Road Hole; the breathtaking starting 1st and finishing 18th holes from St. Andrews, featuring a walk over the Swilken Bridge; the Postage Stamp par-3 5th hole from Royal Troon; the par-5 3rd hole known as Hogan's Alley from Carnoustie; plus holes from Turnberry, Prestwick and two holes from Muirfield, perhaps the finest and most exclusive golf course in the world. Rate includes transportation to and from course, greens fee and cart, tournament services, lunch and prizes. Golf club rentals available for $55, which includes two sleeves of golf balls. A casual lunch will be served at the end of the outing. Pre-registration required.
Would you like to contribute to our golf goodie bags?

The Tribute at the Colony | 1000 Lebanon Road, The Colony, TX 75056 | Phone: 972-370-5465 | www.thetributegc.com
---
Networking:
SHDA's Annual Conferences are considered the best networking opportunity in the industry. The 46th Annual Industry Advancement Summit will be no exception as SHDA strives to combine education and industry development with relationship building and fun. With an Opening Reception, Networking Receptions and Hospitality Suite and several Networking Breakfasts and Luncheons, there will be plenty of chances to enhance your business relationships. Whether you're in a business session, a cocktail reception or simply taking a break in the sunshine, you will come away knowing that you have met with many of your dealers or suppliers without the cost or hassle of hours of travel time. SHDA's 46th Annual Industry Advancement Summit will bring you together conveniently and affordably.
SHDA receptions and cocktail parties are casual affairs. Networking receptions will feature light hors d'oeuvres and an open bar. Cyprus Grille, the on-property restaurant, is available for a full dinner after the receptions.There are also a variety of local restaurants to satisfy every appetite!
Networking Schedule:
SHDA Hosted Networking Receptions

Monday, May 2.................. 5:30 pm - 7:00 pm

Wednesday, May 4........... 6:00 pm - 7:00 pm

Networking Cocktail Receptions (Embassy Suites)

Tuesday, May 3.................. 5:30 pm - 7:30 pm

Thursday May 5................. 5:30 pm - 7:30 pm

SHDA Networking Luncheons

Tuesday, May 3.................. 12:00 pm - 1:15 pm

Wednesday, May 4........... 12:00 pm - 1:00 pm

Thursday, May 5................ 12:00 pm - 1:00 pm

SHDA Hospitality Suite

Monday, May 2 – Wednesday, May 4

9:00 pm - 11:00 pm
Education